ok, this should be relatively short and sweet by comparison with the c15 thread, hopefully with a happier ending, i bought a 1961 triumph t100a for 1500 quid. the bike had been last on the road in 1993 and had previously been rebuilt in 91, there are a rake of reciepts for bist that he had spent, anyhow, when i got it, it had no key, the log book turned up this week btw, anyhow, the bike was complete, turned over with compression and was still full of oil, the battery was gone and the tank was absolutely hanging inside with stale fuel and rust, 20 year old petrol can do that to a tank!!!! anyhow, the front brake cable was broken, and the speedo was in a box with other spares. the spares also contained a complete gear cluster and what appears to be a pair of cams. a brand new chain, and various parts of what seem to be a set of rearsets. the engine may well have been breathed on at some time, as some of the documentation seems to suggest an extensive list of work done to it.. anyhow, i ordered a brake cable and an ignition switch, as well as a pancake air filter, as the bike appeared to be fitted with a bellmouth with some gauze across it, hardly a good filter. i also ordered a set of carb seals as the carb was in need of a clean. this week i dropped the stripped carb and fuel tap into my ultrasonic bath and gave it a good blast to clear it. here are the first few pics,
---
---
---
---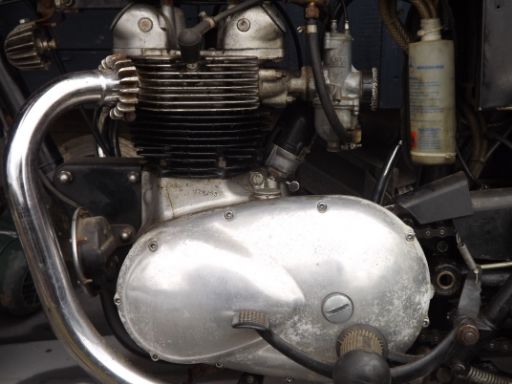 so, next stage, carb is stripped spotless, i note it has shiney brand new jets and needles in it and its cables are new too. my new lucas ignition switch turned up and has been fitted, the air filter is here and waiting fitment, brake cable has come but doesnt seem right the brakes seem to have no adjustment left in them despite having new linings and a new cable, i think the suspiciously new looking brake pull arm on the hub is at fault, i tried it both ways round but is just isnt right, so im going to cut it and put a bit of a bend in it before welding it back up.
the fuel tank was awful, easily the worst ive ever seen, so today i set to with a borrowed cement mixer and a handfull of stainless bolts. it took a large part of the afternoon but it worked, the tank is now pretty much spotless inside and ready for fuel, its currently full of wd40 spray to stop it rusting overnight but in the morning it will get a half gallon of petrol and 2 stroke oil to give it some protection till its all done.
next job is the battery, checking a few bulbs reveals its 12v but imnot too sure if its neg or positive earth, i think the zennor indicates its pos earth, that and the capacitor onto the pos side of the coil, but we will find out tomorrow.
after that, i need to drain and replace the oil and set the ignition timing. its supposedly got a new distributor fitted so shouldnt be too bad to set up, after that im waiting for the carb seals to turn up, although that wont stop me setting to tomorrow with a bucket of hot soapy water to give it the first wash its had in 20 years. i will post some pics tomorrow of the grim sludge that came out of the fuel tank when i cleaned it out, and of the bike after its had a clean, so far total spent 1500 on the bike 35 quid on the filter and switch a tenner on the cable, battery is a freeby from the shed, and that hopefully leaves only fuel and a good kicking to get it to run, but you know how these projects go, it might be a right money pit,,,,
---
Looks like a damn cheap project so far, I hope your not going to wash it's history away
Classics ain't built in Metric
---
Good on you john.
Post a pic of the rear sets, if you're not going to use them, I may be looking for a set
---
im not using them. my days of head down arse up are behind me! it may take me a few days to get round to it but i will post pics when i go back in the shed.
---
---
ok, unfortunately i couldnt get pictures inside the tank to show how bloody grim it was, so, i put about a kilo of stainless nuts and bolts, a kettle full of hot water a good squeeze of fairy liquid, and then wrapped it in bubble wrap and bungeed it to the front of my mates cement mixer, and then spent the rest of the afternoon spinning it clockwise, anti clockwise and varying the angle to let the silverware inside bash off all the crud,
et voila!!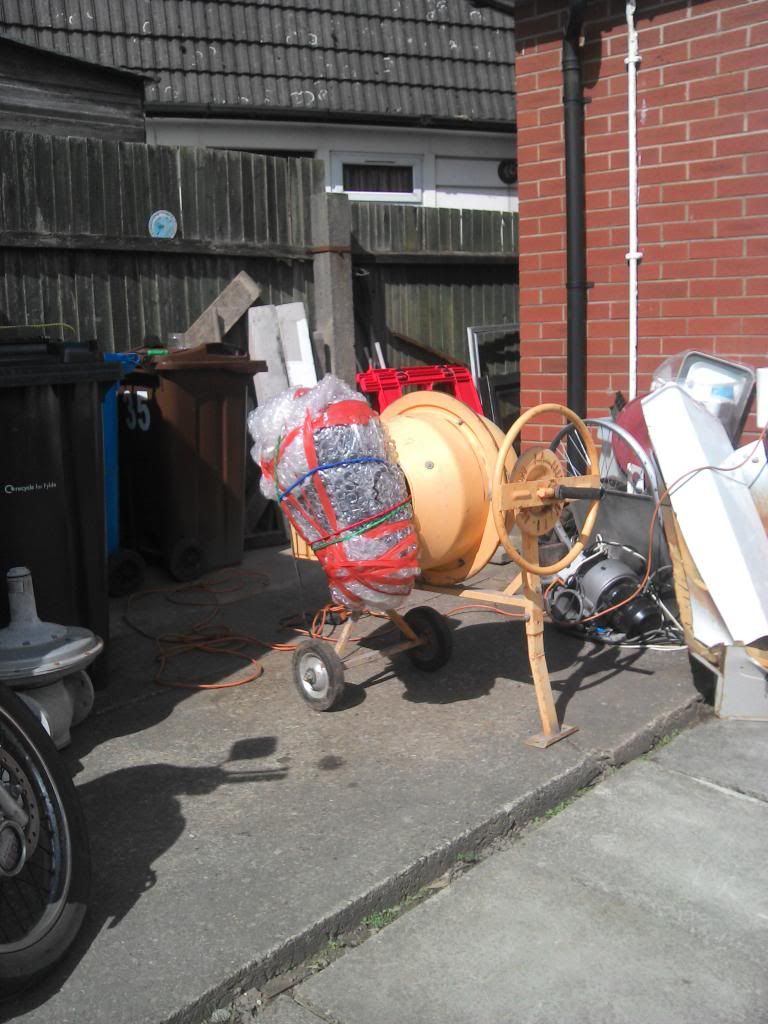 ---